Commercial Automatic Door MI
Commercial Automatic Door MI
Automatic commercial doors welcome customers, visitors, guide traffic, and help preserve your indoor climate zones. Sliding, revolving, and swing storefront systems, including commercial entrance doors, offer several ways to provide convenience, secure the entrances, and meet accessibility standards in your business premise. Here are some options for you to consider when choosing your commercial automatic door MI.
Types of Commercial Automatic Doors 



Sliding doors
The sliding option is one of the most common types of commercial automatic doors MI. They're best for two-traffic where there is no clearly defined entrance or exit designation. The available options include single sliders, bi-sliders, or sliding doors which is basically a multi-leaf system where one panel slides on top of the next panel until the passage is fully open. Sleek styling and adaptable commercial sliding door configurations create a welcoming and functional entryway. Choose from our attractive and convenient sliding door solutions for your commercial premise, including interior and exterior options. Never hold the door open for someone again! Our automatic sliding doors are an ideal entry point for commercial spaces. They offer easy, hands-free accessibility for all commercial spaces, especially those with high traffic. Automatic sliding doors provide great functionality and beauty in one package. They not only look great, but they're ideal entrance for many commercial spaces, such as office buildings, hospitals, restaurants, stores, conference centers, and hotels. Give your customers and visitors a good first impression with an automatic sliding door. Automatic sliding doors provide a clean and welcoming entrance for your customers. They also guide traffic and help preserve the interior climate by closing quickly before the hot or cold air can escape. If you are looking for a high-quality commercial automatic door MI, let our expert door specialists at Great Lakes Security Hardware transform your entrance with a quiet and smooth sliding automatic door.



Swing doors
Used for directional or one-way traffic, swinging doors can be single or double doors and may swing in our out. This option isn't ideal for limited space as you need to account for the room for the doors when they are fully open. Interior and exterior swinging doors offer flexibility, efficiency, and automated convenience for every entrance. Low-energy and full-energy commercial swing door operator configurations are available to meet your access requirement. Double the appeal and enhance the functionality of your swing door entrance.



Revolving doors
Running a business in a cold climate, revolving doors can be significant energy savers. Revolving doors are the ideal solutions for convenience and energy efficiency. Since entrances are never fully open at any given time, a revolving door helps to save heat from escaping the building. Also, they allow a large number of people to exit and enter simultaneously. The automatic options can come in two wings, three wings, and four wings that are often made of glass. Our automatic and security revolving doors feature superior design, convenience, and aesthetics for any entrance need. Choose a commercial automatic door MI solution from a reputable company, such as Great Lakes Security Hardware, that brings you the best in quality and service at a price that suits your budget.



Folding doors
If you are looking for an option that takes up as little space as possible, then you should go for folding doors. Either single or bi-folding, folding doors open and close with the motion of an accordion. There are also quite beneficial if you want to be cautious about what is on either side of the door. This option generally suits physician offices, hospitals, and warehouses. With limited space, install automatic commercial folding doors for maximum door opening. Whether you choose two or four-panel, you're assured of an automatic entrance package that provides convenience and great accessibility in the smallest of environments. Great Lakes Security Hardware delivers an excellent advancement in commercial folding door technology. Our folding doors provide barrier-free, two-way traffic convenience in just a fraction of the space required by automatic swinging or sliding doors. Now, you can achieve automatic door convenience, even in the tightest of corridors in your commercial premise. Our automatic commercial folding door is ideal for new construction or retrofit projects and has an unlimited possibility of applications.
The Right Door For You
Adding a sliding, swinging, revolving, or folding door can improve your commercial space by adding accessibility and convenience. Revolving and sliding doors are an ideal option if you want convenience and energy efficiency. Swinging doors can improve the efficiency and versatility of your entrance, and folding doors are great for maximizing the potential of a small space.
Commercial Automatic Door MI
Make your commercial space more accessible with a highly-functional and easily-accessible commercial automatic door MI. Great Lakes Security Hardware provides a wide variety of automatic doors to ensure convenience and security at your entrance. Our certified specialists and salesmen can help you choose the right commercial automatic door MI for your business. Call us today at (888) 855-6257 or contact us online to get a FREE, NO-OBLIGATION quote.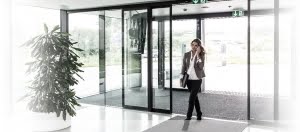 Commercial Automatic Door MI