Commercial Steel Doors: Explore the Options
Modified: May 4, 2023
Commercial Steel Door Replacement Options
When a door opening necessitates sturdiness, durability or maximal heat resistance in virtually any combination, steel doors and frames offer the qualities to fulfill these particular requirements. Once preferred primarily because of their functional use or functionality, they have gone on to develop increased aesthetic characteristics while also accommodating the particular increasing options a entry needs for support.
An industrial steel door entrance is a door which will withstand frequent heavy use and keep a building secure for many years. These types of doors are a great choice and widely used throughout facility-like environments, including educational institutions, professional complexes, commercial applications, in addition to storage space locations.
Commercial Steel Doors vs Hollow Metal Doors: Which Should You Install?
Steel doors are generally placed inside all steel metal support frames, providing a better measure of support together with security over a wood made framework. The term "hollow metal door" is generally used to make reference to any and all steel doors in order to help differentiate a swinging door from an overhead roll-up steel door.
While a steel door works extremely well for the inside of structures, they are simply the best option with regard to exterior applications. A commercial steel entrance is one of the strongest and most resilient options for securing any property, as well as being extremely resistant against weather and extreme climate.
Unlike wooden doors, hollow metal entrance doors won't reduce in size or even rot away when subjected to the weather, and they also present you with a more significant degree of insulation compared to what most wooden doors are designed for.
Choose Steel Door Construction for Commercial Applications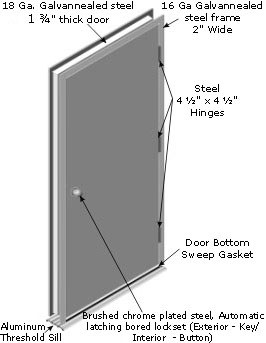 The building of any steel door starts off with selecting a core. Normal steel door cores are made of honeycombed-cardboard treated with a resinous fortifying agent. For added efficiency, polystyrene or polyurethane cores could also be used. Whenever the steel door or doorway has to be fire-rated, a mineral fiber core is needed, which is in the position to endure fire flames and temps for as much as three hours.
Next, a steel skin is actually extended across the sides on the core, with various other pieces welded along the sides. The particular skin can be created from galvanized steel, which is resistant to decay as well as deterioration, or from cold-rolled alloy, which usually is much better with regard to internal installations. These sheets can be found in different sizes, or gauges, generally from 20 to 14, and the lower the gauge, the tougher the doorway will be.
Prior to the steel door being distributed, it will be prepped to have door hardware that included hinges, locks, and additional items. A simple commercial steel door entrance is flush, which means that it is smooth on either sides with no windows or openings. On stairwells and various avenues involved with travel, a small window, or lite, is normally added to make it easy for individuals to see through in advance of opening up the doorway.
Located on some doors, louvers can be included to help with venting, particularly in spaces having large pieces of mechanized or industrial related equipment. Certain specialty selections on a steel door incorporate stamped panel styles over the face of the actual door, or embossed wood grain texture, which offers the perception of a solid wood door along with the toughness of a steel door within one product.
Great Lakes Security Hardware Has the Experience You Need to Upgrade Your Commercial Doors Near Roseville, MI
Interior and exterior metal doors are the best bet in the event that protection and durability will be major concerns. Metal models have proven to be stronger than wood or fiberglass doors, and in addition they will likely not crack or twist. Contact us at Great Lakes Security Hardware to learn more and to order commercial steel doors today.