Top 5 Reasons to Use Keyless Commercial Door Locks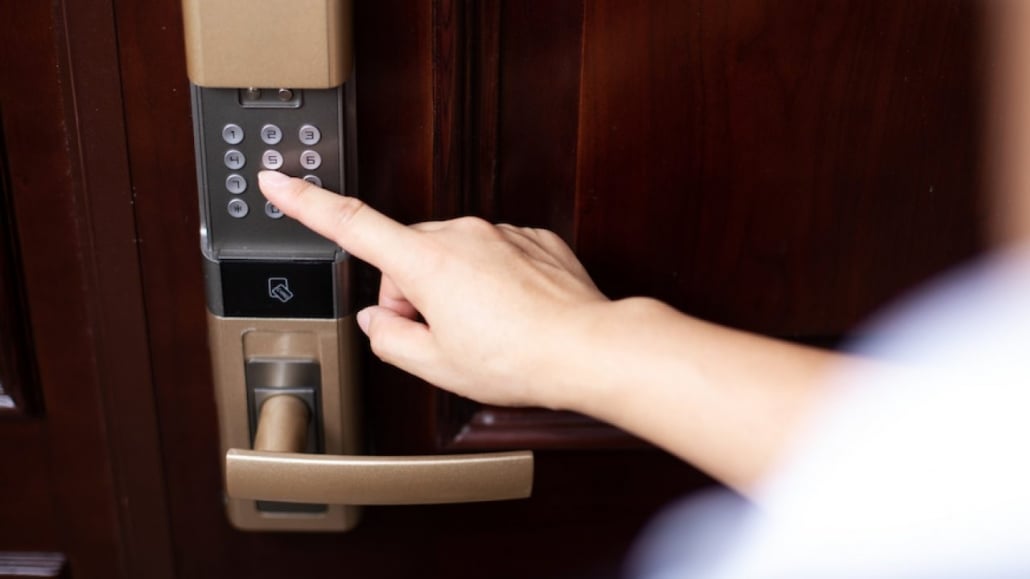 Keyless Access Control System for Roseville, MI Businesses
Commercial keyless locks do not need a conventional physical key to allow you to unlock your commercial building door. It also enables your employees to use a keypad, swipe card, or even a smartphone app to access the building, eliminating unauthorized entry.
Commercial keyless locks can enhance your business security system and provide several added benefits to your company. Once installed, a keyless lock system will ensure optimal security and ease of use, striking a perfect balance between these critical features that improve the business environment.
Often associated with the latest vehicles, keyless door locks help in the management of public and private spaces and change the way we access the building and interact with various spaces. While it's not new (relatively speaking), you might be less familiar with this convenient and time-saving technology, and the many options and features available today.
To help you make an informed decision on the choice of commercial keyless locks for your building or facility, we will take a closer look at the top five ways they can make life better.
1. Keyless Entry Systems are Convenient
When thinking of commercial keyless locks, convenience is probably the first thing that comes to mind. However, it is about more than easy access or not having to fumble with keys anymore. Keypads and other kinds of electronic door locks allow for retrofitting with minimal disruption so you can quickly upgrade from a traditional mechanical door. They are usually easy to install and maintain.
These keyless entry locks are often battery-powered, thus preventing access issues due to power failures and eliminating the cost and hassle of routing wiring to the door. Battery-powered indicators will ensure you are never locked out, although some commercial keyless locks come with mechanical locks for use during emergencies. They provide added convenience.
2. Timesheet Tracking Capability
The use of commercial keyless locks going in and out of your building can help bring accountability and limit access to some spaces. Our locksmiths at Great Lakes Security Hardware can design your keyless security system such that timestamps are established every time employees use it. You will have a clear picture of who is entering or leaving your building and when.
Our locksmiths can integrate these locks with your rostering software so that you will be able to track the exact time each employee starts or ends their shift. You can simplify the way your employees log in for a shift with this great opportunity for automation.
3. Easy to Customize and Control Electronic Door Locks
You can come up with new ways of granting access to your building using commercial keyless locks. You will have control over who accesses your building, for how long, and exactly which days they can visit. It provides convenience and freedom to grant access to employees or visitors when they need it and keeps your building secure when they don't.
Changing the passcodes of a keyless access system is secure, easy, and safe. There is no need to visit your locksmith whenever you want to grant access to a new employee or when an employee leaves. If someone loses a keycard, it is just a matter of programming a new one.
4. Alarm System Compatibility
Do you have a high-tech security alarm system in your office? Our locksmiths can install and integrate commercial keyless locks with your alarm system. Therefore, you could use your new keyless locks as a trigger to set off a security alarm.
You may not have an alarm system connected to the main points of entry of your building. You have a perfect opportunity to install both commercial keyless locks and a new alarm system as well. Integrated alarm and access systems provide you with even greater control of the security of your building.
5. A Keyless Entry System Offers Various ID Options
Use commercial keyless locks to develop new ways of identifying and granting building access. Fingerprint scanners for granting access to users are one of the most convenient options. The user wouldn't have to carry around a key for access. Your employees will only wait for a quick fingerprint scan to open a keyless lock with ease.
Furthermore, granting access to your building using a smartphone is another good option. Your keyless system can use a smartphone security app to identify your employees and grant them temporary access. Your smartphone will act as a key, and you will not have to carry around additional keys for accessing the building.
Commercial Keyless Locks Roseville
Are you looking for high-quality and affordable commercial keyless locks in Roseville? Contact Great Lakes Security Hardware today to request a Free, No-Obligation Quote. Call us at (888) 855-6257 or contact us online.