Why Your Business Needs to Install Automatic Commercial Doors
Modified: August 4, 2022 in Automatic Doors

Do you know that doors that are automatic enable easy access to buildings in commercial and industrial environments? With our high-quality automatic door installation service in Roseville, MI, that Great Lakes Security Hardware offers, you stand to benefit a lot from your automatic commercial door.
Why Should Businesses Consider Automatic Door Installation?
Installing an automatic door comes with great convenience and that is one of the main benefits to your company. People can pass through an automatic door with ease without the hassle of opening a heavy door manually. Therefore, it is a good way of welcoming your customers from the moment they arrive at your premises.
An Automatic Sliding Door Solves Accessibility Issues for Commercial Buildings
With automatic sliding doors installed at your business, this can effectively solve accessibility issues since people with disabilities will be able to access the premises with ease and without any complications.
Installing Automatic Commercial Doors Will Save Your Business Space
Additionally, automatic commercial door installation can save space, making it an ideal choice for companies operating in limited spaces. The choice of telescopic sliding and single sliding doors presents several options of commercial doors that can ensure you utilize the available space well.
Enhance Security Management with Automatic Doors
Doors that open automatically can also enhance the management of security. The door can be controlled remotely, meaning that your personnel can deactivate the door completely if necessary or grant access to selective traffic. Automatic commercial doors increase security, leaving you feeling much safer, as most of them come with a locking system that gives the user more control.
Maintaining Automatic Commercial Doors is Easy
Once the technicians from Great Lakes Security Hardware finish installing your automatic commercial doors on your premise, it is easy to own and maintain automated doors since they're manufactured to the highest standards for safety and quality.
Automatic Doors are Aesthetically Pleasing and Come in a Wide Range of Designs
From sliding doors to swing doors, you can choose from a wide range of designs and systems. You'll easily find a solution that suits your business needs. From replacement sensors to full operators, we use high-quality door products from the world's leading manufacturers to provide tailored solutions for you.
How Do Automated Doors Work?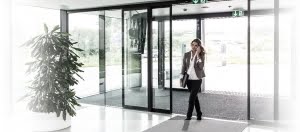 Automatic commercial doors bring great convenience to everyday life. They guarantee ease of passing through many doors in medical centers, train stations, and shopping centers (just to name just a few). All you need to do is walk up to the doors, and it opens automatically for you. But, how does an automatic door work?
A range of sensors controls the operation of automated doors. These sensors can detect various things such as motion, sound, light, and weight. There are many types of these sensors, and each one is ideal for a specific environment. For instance, some doors have weight sensors that detect when a person stands on something disguised as a mat in front of the door.
Motion Sensor Detector For Doors That Are Automatic
Motion sensors can detect movement around the door in predefined areas and send a signal to the door telling it to open when something triggers this sensor.
Once something triggers the sensor, a signal is passed on to the electronic drive train connected to the sensor, which controls the opening and closing mechanism. This mechanism is attached to an automatic door and controls the motion of the door using a cogwheel connected by rubber belts.
These mechanisms working together with the sensors ensure the door opens whenever a person wants to pass through it.
We Install Unique Automatic Commercial Doors Including Automatic Sliding Doors
We sell, install, maintain, and repair sliding, swinging, revolving, and folding doors for various applications, including:
industrial and commercial applications

grocery stores

healthcare industry

handicap/barrier-free applications

residential

clean rooms

educational facilities

airport entrances

custom and specialty doors
Automatic Commercial Door Installation Services in Roseville, MI
For over 20 years, we've been providing top-notch door installation solutions to our clients in and around Roseville, MI. We're committed to providing our customers with quality and innovative solutions through planning, design, service, and repair. We've built an excellent reputation throughout the Michigan area.
If you need high-quality and affordable door installation in Roseville, call Great Lakes Security Hardware today at (888) 855-6257 or fill out our contact form to make an inquiry.