Commercial Door Requirements
Commercial Door Requirements means more than just compliance
Exterior commercial door requirements are things that should be carefully considered because the exterior door of any commercial establishment - whether it is a small store, a quaint little book shop or coffee nook, or a big and popular go-to place of regular customers - is one of the first things that will say a lot about it.
People may look at the establishment as a whole, but will always eventually seek out the entrance to it. This is especially the case when the Open and Closed signs are placed on or near the door, as well as the operating hours, menu, sale signs, or specials listings. Hence, taking the time to choose and install an exterior commercial door is just as important, if not more important, than designing the whole place and choosing the perfect decor and accents to go with it.
So even though these are not part of the commercial door requirements, having a company that can help you with the design and esthetics can be just as important.
The Most Basic Commercial Door Requirements

Are those that have to do with its style, material, and application. The style refers to a door's design and type. It has to match the overall architectural design of the store or establishment, and has to be one with its theme or color scheme.
A door can be a simple single door of wooden finish with glass panels. Doors with a wooden theme or look can be easily played around with when it comes to designing it as a wood design can be so versatile. Single doors can also be a typical glass door with aluminum sides.
An establishment's exterior doors can also be the two-door type. Two-door types also come in a variety of designs. It can highlight an elegant look of a building when framed with bricks or it can be a typical pair of double glass doors which open to a bright, inviting, and cheerful store or cafe.
The material and application of exterior doors are more focused on a door's functional aspect but their execution can also play around with the building or establishment's theme and over all style. It is just important to consider the door's material - being an exterior part, it has to be able to withstand various environmental conditions and changes in seasons.
The outside part of the door is also constantly exposed to the elements hence it requires more durable, sturdier, and tougher material. If a door's design is wooden, it has to be a specific quality of wood that can last being an outdoor material. If it has glass panels, the glass material has to be the thicker and tougher types.
With regard to the commercial door requirements application, exterior doors can be installed in such a way that they swing open or close, or that they slide apart or close. Automatic doors may also either swing or slide, depending on the design and space for the entrance and exits of the establishment. Even if customers are going to a store to see what is inside it, it is still important to ensure that the doors that will welcome them have met the basic commercial door requirements, and are as inviting to walk through.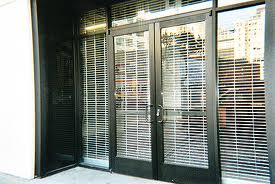 Great Lakes Security Hardware is your Commercial Door Requirement Specialist!